I learned this from an expensive info-product, put it into play and it is crushing it.
It is simple... But way powerful.
The hack is the structure of the funnel... Here it is: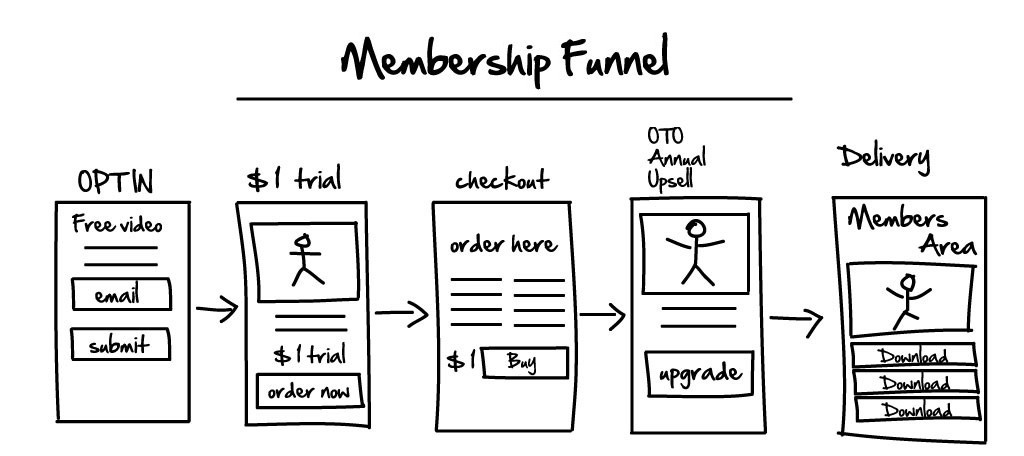 Opt In for free video -> Free video is a sales video -> $1 trial for 7 days & $37/mo sale -> OTO for annual membership at $197/yr
Super simple, but what this does is creates the lead bait, the trip wire, the recurring revenue model and the high(er) ticket upsell all in one neat and tidy funnel.
Almost 30% of customers take me up on the one-click annual upsell which MASSIVELY increases my FB PPC budget so I can spend more to acquire customers and create a very strong cashflow and huge list in the process.
Check out this video for the full explanation...
Breakdown of the steps
Opt in - 'Free video reveals________' is the basic premise of the squeeze page. Not going into the market/message match here, but it needs to be compelling to your audience (duh!)
Sales Video - Goal was 20 minutes long, ours ran to 30 min (but the offer comes up at 20 min). The video has a strong hook that reinforces why they are watching (to solve their problem) and then engages them in a story.... the story is 'soft teaching' about how the solution worked in real life.
The sales video transitions to a $1 trial offer for the membership program that auto re-bills at $37/mo starting day 8. You can play with the monthly price all you want, but that $1 trial is sooooo small, it is a micro-commitment after a previous micro-commitment that it converts well.
Checkout page - Super simple... Just make sure that after they check out they go to a one-click upsell page where they can buy the OTO without having to re-enter their credit card information again.
OTO Upsell to 1 year - After they complete checkout for the $1 trial / $37/mo membership they go to a video and the transaction is still 'open'.
If you are curious about the 'tech' behind this membership program, I cover all of that along with step-by-step instructions on how to build it, in this post here.
If you are solely interested in the shopping cart I use for the dollar trial, monthly and annual upsell, it is Thrive Cart.
You can learn more about Thrive Cart in this review, here.
This second video explains that to truly fix their problem or get their desired result, it takes time, patience and dedication...
If they are willing to commit to it, I'm willing to commit to them and right now they can get a full year for over 50% off. ($444/yr is full price, they get it for $197)
You want your one-click upsell video to be SHORT, under 3 minutes. It is 'their chance to save $247' and it works like gang-busters!
Very soft sell... Actually not a 'sell' at all, just a chance to save money if they '...Know this is for them'
So all in all, you get all the components of a modern funnel that someone can go from visitor -> lead -> customer -> $198 customer in about 25 minutes.
Then the follow up series hits them repeatedly for 7 days, there is an 'exit pop' on the sales page to offer them a text version and finally if they don't 'convert' after 7 days, they go to another follow up sequence that offers other one-off products ($17 - $97 ea) and related affiliate products.
They get an email every day for at least 3 weeks and after that they go to a 'broadcast list' that receives an average of 4 or 5 emails per week for life.
This 'funnel' has been the biggest and most significant revolution in my business in the last year....
Want to see inside of the membership site and the member's area I built on Clickfunnels?
Click here to see my Clickfunnels Membership Site Example
Now you know!