Your online sales funnel contains three to five of the most valuable web pages you will ever create.
Click Funnels are being aggressively marketed as the only solution available to quickly and easily create sales funnels online; however, as you'll learn in this post, that is not true.
There are simple and effective Click Funnel alternatives available to you that can ultimately save you hundreds of dollars per month and thousands of dollars per year.
You can then take that saved money and use it to invest in Facebook advertising instead.
Why am I interested in sharing with you my alternative to Clickfunnels?
Simple... Clickfunnels did me wrong.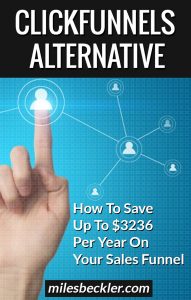 I bought into the hype around ClickFunnels that was being portrayed by their affiliate program who all earn 40% commissions. However, those affiliates are not telling the full story and instead paint Click Funnels as a bug-free and stable solution with great support. I found that this is not the case and their support has been less than helpful to me.
With Click Funnels' decision to pay 40% of monthly fees in affiliate commissions, that also makes them overpriced by at least 40% as well. You then take the companies cut out, and you are overpaying by literally 60% plus compared to investing a few hours in building your own sales funnel.
Is there a clear winner in the alternatives to Clickfunnels conversation? A Free alternative?
There are no free squeeze pages available that you can truly build a reliable income and internet based business on. Even if you have the skills to hand code your squeeze pages and sales pages, you will still need to pay for hosting and for the email service provider.
The clear winner is when you can DIY the most cost-effective Leadpages competitor and Clickfunnels competitor using WordPress.
WordPress is best because it is open source, the best option to not get "stuck" continually paying an ongoing overpriced subscription.
This then brings us to an important question that you are probably asking,  "how much does this DIY sales funnel cost?"
Save Money and Get Better Results?
As you are about to learn, it will cost approximately $300-$500 per year to operate a WordPress Funnel, whereas Click Funnels can cost upwards of $4000 per year to operate; again with 40% of that going to pay for affiliate commissions.
It is far more valuable to invest that $3,500 per year of savings in more Facebook advertising!
Yes, I am forgoing large commissions from ClickFunnels by not promoting Click Funnels, but I cherish my integrity and could not promote an overpriced and sub-par solution simply for the money.
That is simply greed, below the 12 how to set up your funnel on WordPress videos, you will find 10 more ClickFunnel alternatives to explore if desired.
Over $1 Million So Far
You will learn about the exact system, tools, and software I use to run my successful sales funnels and my businesses that have generated over $2 million dollars in revenue and over 1 mil of that in a sales funnel!
Whether you are a bootstrapped entrepreneur, a complete noob to digital marketing, or a small business owner who wants to leverage the power of sales funnels but appreciates the concept of a lean startup, then these video series below are designed with you in mind.
I cover every single step of the process. I will show you how to install WordPress and the theme and will then show you how to configure the theme of your autoresponder in your merchant account. I will then show you how to create your membership area as well as your product delivery pages, your products, install a Facebook pixel, your checkout pages, analytics and more.
How to Set Up A Successful Sales Funnel
The DIY Sales funnel video series will continue to evolve as I add on new videos explaining additional functionalities that Click Funnels offer that are easily replaced with this WordPress sales funnel. The core sales funnel creation process is complete, and it took these videos that span approximately four hours for me to explain every step in the process and every option you have available to you.
Facebook advertising, SEO, Shopping Cart, Email Automation and more.
Step by step here is how to customize a sales funnel and business that will support any lifestyle design dream that you have.
Ready to get started building your own funnels alternative?
Video One: Install WordPress, Build your basic funnel and integrate your email service provider.
In this first video, we build a fully functional affiliate marketing funnel that we evolve into a membership funnel or sales funnel that sells an online course in future videos.
. I walk you through every one of these steps in the video above, so you can follow along and be guided through the process to guarantee you are successful at setting up your own sales funnel for your business and website.
Once the hosting is set up, we can then configure the WordPress platform for security, search engine optimization, and compatibility with our theme and funnel building software.
The second step is to obtain and install our theme: http://www.milesbeckler.com/thrive
Third, we add the funnel building plug-in from the theme company and begin to actually create the sales funnel.
UPDATE! Thrive Themes has changed the content builder plugins since I recorded the above video.It is now called Thrive Architect, and I've made a new video that shows how to use the Thrive Architect plugin to create the same opt-in page I did in the video above.
Check out the video below for how to use the updated ThriveArchitect theme plugin.
Ok, that is all for the update...
Then we configure your email list with your funnel, so your leads are able to receive your autoresponder emails.
In my constantly evolving effort to make this the most valuable resource for you possible, I've created a new email marketing automation video that shows you exactly how to set up your autoresponder series and create a broadcast segment.
This will allow you to use automation to send a pre-written follow-up series to your subscribers and then create a segment that you can send daily broadcast messages to for your campaigns.
This video shows the exact step-by-step process:
Now, I don't cover exactly how to create your free giveaway or the theory behind the copy I'm using in this affiliate marketing funnel because 
I have covered those in depth in other posts and videos.
By the time you have finished this video, you will have a complete affiliate marketing sales funnel created that is ready to run Facebook advertising or other traffic to it, and this is the closest thing to a free alternative to Leadpages or a free alternative to Click Funnels that you can rely on.
Although WordPress isn't a Leadpages competitor or a Click Funnels competitor, directly, when you build out your squeeze pages based on the tools and steps here, you get all of the benefits of Click Funnels data tiny fraction of the cost!
Video one and a half: Setting up your custom email address at your new domain name.
It is important to use a custom email address at your domain name to get the
highest deliverability rates in Aweber
. Also, your subscribers will feel a more personal connection with you when they receive your automated follow-up emails from yourname@yourdomain.com
Video two: Content marketing and WordPress customization.
In this video, we take a  quick step beyond the funnel to look at how WordPress can be used asan effective foundation for powerful 
content marketing
 campaigns.
How to Get Traffic to Your Funnel
My wife and I drive nearly 1 million visits per month from our WordPress websites from the content marketing efforts over the last several years.
For someone on a bootstrap budget, content marketing is the least expensive and most powerful traffic option available to you.
If you simply want to run Facebook pay per click advertising and that's all, then this video is optional. However, I still recommend that you watch the video because you will learn the basics of customizing WordPress which is important to understand even at just a theory level.
By the end of video two, you will have your core pages and your first blog content published and optimized for the search engines.
You will also have begun the process of customizing the look of your website and theme through the WordPress customization feature.
Additionally, you will also understand how to manage the menus, the widgets, the sidebar, and more.
Video three: Creating your member's area and product delivery pages
In this video, you learn how to leverage one of the themes most powerful and underutilized functionalities to build out your own members area or product delivery pages.
Whether you are creating a modulated course, a fixed duration membership program, delivering an e-book as a product or creating a monthly coaching program...
This video shows you exactly how to build the members area where you deliver the products you will sell from your sales funnel.
This is the exact system my wife and I use to manage our membership area that contains nearly 300 lessons in dozens of modules under eight main categories.
This system works perfect for simple product delivery and can be leveraged for very large courses with a complex module and lesson structures like the one we have built.
This functionality is more than a click funnels alternative… The unlimited functionality and customization of this membership area is 100 times better than the functionality you receive with click funnels' membership area.
Video four: Adding your shopping cart, Receiving payments for products and protecting your paid content.
In this video, you learn how to protect the content you structured in video three, for your member's area.
Since that content is for paid customers and members only, you need a way to protect or hide that content from public's view so that people who did not purchase it can't find and download your course materials.
Additionally, you will learn exactly how to install and configure your shopping cart so that you can sell products, memberships or services.
You do have multiple choices when it comes to the shopping cart system, and membership plug-in that you choose for your WordPress sales funnel.
How to Collect Money from Sales - Your Shopping Cart
The beginning of this video covers the four main options that are worthy of your consideration.
These are the four mentioned and be sure to watch this segment to know which is best for you!
At approximately 19 minutes into video 4, I help you understand why Member Mouse is the most likely to work for you and we begin the process of installing and configuring that shopping cart.
You will learn how to set up your main checkout pages, login pages and other core pages that make sales funnel function.
You will learn how to create products and integrate payments, so you can charge users for the products and services you sell.
You also learn how to protect content that is for paid customers and paying members so that your website visitors who have purchased an item can automatically receive access to the item. Also, to make sure that visitors who have not purchased the item cannot see or access the downloads.
Video Five: Testing Your Funnel!
Before running paid traffic, you need to be sure that your funnel, your shopping cart, and your payment processor are all working correctly.  This video shows you how!
First, you will learn how to put both your shopping cart and your payment processor into 'Test Mode' so you can run a test and see what the user experience is like.
Then you will learn how to put your funnel back into live mode, so you can test with a real transaction on your credit card which I highly recommend you do to be sure everything is working and is configured correctly.
Video Six: Setting Up Your One Click Upsell
Adding on a one-click-upsell is one of the most powerful ways to increase your average order value allowing you to increase your budget for paid traffic.
In this video you see exactly how to set up a one-click-up sell so you are able to add on membership programs, high ticket offers, personal coaching, etc. after the user checks out for your front end product.
Video Seven: Setting up your Facebook Tracking Pixel & Custom Conversions.
In this video, you learn how to add Facebook's tracking pixel to your site and how to set your funnel steps up as custom conversions.
This is a required step if you plan to run paid Facebook advertising.
Once you have that tracking in place, if you want to
learn how to advertise on Facebook, click here.
The next step in the process is to set up your split tests so you can improve conversions on your landing pages and sales pages.
Video 8 : Setting up and running your split tests:
Recently, Thrive Themes launched their 'Optimize' plugins that allow you to do A/B Split Testing inside of the WordPress dashboard which is 10x easier than the 'old way'!!
Learn how to setup and run your split tests in this video:
That video above is the 'new way' to run split tests...
The 'old way' of using Google Analytics still works, but it is a bit more clunky.
I'll leave the video showing that old way of A/B Split Testing below, just in case... But I recommend the above approach because it is EASY!
Click Funnels claims to be the only sales funnel building tool out there which is nonsense.  As you have seen here with these videos, there is a clear Click Funnels alternative that can save you money while giving you all the performance and functionality you need.
10 Additional Alternatives to Clickfunnels
Small business owners rejoice: Samcart is a company that has actually built its reputation on being friendly for small and up-and-coming online businesses. Here's a deep dive on how I use Samcart in my business every day.
With SamCart you can make a 1-page funnel which is the fastest and easiest sales funnel to make money with... In fact, they are the only company on this list you can build out true 1 page funnels with and if you want to learn more about the power of a 1 page funnel, go here: milesbeckler.com/1-pager
Samcart can help you integrate PayPal, Stripe and more into your checkout process, and altogether provide your customers with a sleek, easy, and secure checkout experience. Samcart is an upsell master and can help you lower your cart abandonment rate, which is no small victory. 
Sometimes, the best solutions to your problems are also the ones that are most affordable. If you want to see more traffic and sales on your WordPress site, then a free WordPress plugin might be the answer you're looking for.
WP Lead Plus X can not only help you create a great landing page for your site, but also squeeze pages, splash pages, thank you pages and more. Instead of dealing with multiple plugins, this tool can help you manage pages of all types.
Cheap and reliable WordPress hosting for $60ish dollars a year, a free WordPress funnel plugin and done!
If you are working with a tight budget this is the way to go, you'll be free from the hassle of refund deadlines or trial periods too.
Ontraport is a comprehensive alternative to ClickFunnels, offering a number of valuable tools that can help you with both targeted campaigns and day-to-day sales.
Ontraport is a very automation-focused tool, which can sometimes present challenges for small teams who prefer to manage a project as independently as possible. However, larger teams will certainly save time and money from this automation, with many businesses even seeing the brand as better than ClickFunnels altogether.
Ultimately, ClickFunnels is a strong choice for sales funnels, but Ontraport is simply much more versatile, offering top-quality services like email marketing and analytics, and other tools that could change your business for the better.
No matter what your experience is with web editing, Leadpages can help. Unlike many other tools, Leadpages offers two different editors, one catered towards experts, and the other towards newbies.
It's also a budget-friendly option, with select plans available for under $30 a month. However, some users have found that the editor can be a little frustrating and clunky, as well as harder to customize.
If you want a relatively cheap plan without many additional features and you are alright with an editing process that is a little less than smooth, Leadpages might be right for you.
CartFlows is one of the top funnel builders for WordPress, and the reputation is well-earned.
An easy user experience and high-quality ready-to-import templates are two of the main reasons why customers are so satisfied with CartFlows, but one of its greatest strengths is a checkout system that automatically increases conversions, earning you more money on online purchases.
At $299 per year, CartFlows is not the cheapest option on this list, but it is a reliable tool that makes e-commerce an easier experience for both businesses and their customers.
Instapage is a popular landing page tool, with a reputation for having a great user interface. The landing page is easy to use, and you can even review your web activity in a creative and unique way: by viewing a "heat map" of traffic from your customers.
It also has a very strong drag-and-drop builder, although it is fairly low on built-in images, meaning you will more than likely be left searching for your own.
Although the product is strong, for many businesses, it comes down to the interface: even newcomers will be able to quickly learn the ropes given the straightforward and user-friendly nature of Instapage's layout.
Convertri is a great choice for anyone wanting to stay in control of their website by using a drag-and-drop web page builder.
Although Convertri boasts numerous features such as the ability to set up countdown timers, the DIY feel is what so many people love about the brand. Their free-form editing feature can help you maintain absolute creative control of your webpage at every stage, while also creating a high-converting sales funnel that rivals anything you can have access to using ClickFunnels.
The company also offers a two-week trial for just a penny, making it an essentially risk-free opportunity to get started on creating your own sales funnel.
10 Minute Funnels kind of sounds a lot like ClickFunnels and we won't lie, that's almost certainly on purpose. Both brands are very similar in terms of pricing, features, and specific focus on sales funnels.
Ultimately, 10 Minute Funnels could be seen as simply a newer, perhaps sleeker, version of ClickFunnels. However, as you will not save a ton of money choosing one over the other, 10 Minute Funnels might not be the alternative you need.
However, if you like ClickFunnels and value creating sales funnels over any other feature, but want to try something different, 10 Minute Funnels is a pretty safe bet.
Unbounce is a company focused on playing well with others.
While using ClickFunnels, you might notice that, if you want your webpage to benefit from a certain tool or feature, you must be ready to pay for theirs. Unbounce, on the other hand, is designed to be used hand-in-hand with other tools.
However, it does not have many of its own features, which is certainly an area of weakness. For example, Unbounce has no campaign management tools at all.
If using features and tools offered by different providers is a priority of yours, Unbounce is a compatible and affordable option, although you should not depend on it if you prioritize campaigns and email marketing.
BuilderAll is an option for anyone willing to put their faith in a young company (after all, we were all once in that very same position, too, and many of us still are).
BuilderAll is truly focused on the "all" part, with a versatile range of marketing tools and features. Although it has garnered some flak for having a clunky interface and the occasional glitch, it is also a significantly more affordable tool compared to ClickFunnels.
Essentially, if you want ClickFunnels without having a ClickFunnels-friendly budget (and you're willing to overlook a rare glitch), BuilderAll is the comprehensive tool for you.
Conclusion
If you have followed along, you will have a complete understanding about how to operate a sales funnel on the WordPress platform, and your total investment ( depending mainly on whether you chose annual or monthly billing for the different tools) will be between $300 and $500.This is the exact setup my wife and I are using successfully on multiple websites.
If you found this click funnels alternative post and these DIY sales funnel videos helpful or if you have any questions specific to the or steps covered in any of the videos above, please leave me a comment.
Miles