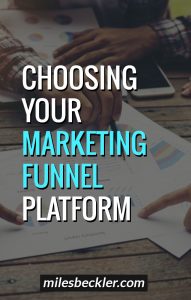 One important choice for you in growing your business online is choosing a funnel platform that fits your needs, your budget and allows you the ability to grow in the direction and to the scale you ultimately desire.
In my professional opinion, you have two choices. First, there is ClickFunnels and second, there is a WordPress based funnel which is the best Clickfunnels Alternative.
This quick post will look at these options from a few angels. Specifically focusing on the real cost of each, the time requirements for each and the additional benefits and detriments that don't fall into the financial or time-related categories.
Ready? Good... Let's begin!
First, let's start with the $$$ numbers! Now, I'm all about the 'lean startup' concept and am proud that I have bootstrapped my business online for a little more than a couple hundred dollars and a ton of effort.
With that said, when I started my business online I was flat broke and had no other choice!
But really, I don't think anyone enjoys paying thousands of dollars more than necessary, even if they have that kind of money laying around.
First, we will look at ClickFunnels... Their pricing is simple.
You have two options, first $97/mo for no email service and up to 20,000 visits per month.
Second is $297/mo with an email service and unlimited visits per month.
That equates to either $1164 per year without email or $3564 per year with email...
A quick note about the email side of Clickfunnnels.
You still have to integrate, configure and pay for a SMTP email provider to physically send the mail.
Clickfunnels only offers the interface so there are other fees depending on how much mail you send, but they are small.
Next, let's look at the cost of creating a marketing funnel on WordPress.
Now, this process requires hosting, a theme and an email provider which all work together seamlessly.
You will need web hosting with an SSL (this is the green lock and allows you to have a 'secure' website where you can accept credit cards) and a dedicated IP.
For one full year, this is $100.86 with A2 hosting's WordPress hosting package.
You can get the same package for $31.33 up front and $13.99 per month thereafter if you are super-budget conscious.
Best part?
They install WordPress for you and 'secure' the installation from hackers and this package could handle 200,000 visits per month or more!
Then, you need a 'Theme' that includes a funnel building system. For this, I recommend the Thrive Themes Membership which you can get by clicking here.
Thrive Themes Membership is $228 per year. If you would prefer to pay quarterly, it is $75 per quarter.
Installing the theme takes about 5 minutes and they show you how in their tutorials here.
Installing their content builder plugin takes another 5 minutes as shown here.
With these two items installed you can build your first funnel on WordPress and they show you how to do that here.
Now, let's add up the totals real quick and see what the difference is.
WordPress + Hosting + Thrive (200,000+ visits/mo) = $328 per year
Clickfunnels up to 20,000 visits/mo = $1164 per year
Clickfunnels over 20,000 visits/mo = $3564 per year
On WordPress if you want to sell your own products, you will need a shopping cart, too.
I personally use and recommend ThriveCart.
Then you will need an email service...
For you, starting out... I recommend (and personally use) Aweber.
Aweber costs $19/mo after their 30-day free trial for up to 500 subscribers.
As your list grows, you do pay more and the next step is $29/mo for up to 2500 subscribers.
If you average $29/mo in Aweber fees, that brings your total costs to:
WordPress based: $676 per year
Clickfunnels based: $1512 per year up to $3564 per year.
Why is Clickfunnels so expensive?
To be honest, it is because they pay out 40% per month in recurring revenue to affiliates...
This means if you sign up for ClickFunnels through my affiliate link here (and yes, these links in this post are indeed affiliate links) over the course of the year, you would pay $1164 and they would pay me $465+ in commissions.
If you fall for their 'Full Suite' upsell which is $297/mo or $3564 per year, that would put $1425+ in my pocket every year...
For making the recommendation.
This is why... #1 - So many people claim ClickFunnels is the "BEST EVER"
...They are saying that out of self-interest trying to make commissions.
...And #2 it must be more than twice as expensive because they have to pay for their staff, their services, and the affiliates.
Now let's talk about time... Can ClickFunnels save you time in creating funnels?
Time is money, right? And if it saves you enough time, it's worth it, right?
Honestly, yes... Clickfunnels can save you time.
You can probably save a few hours in the initial setup and maybe an hour per month...
But as you learn how to use Thrive Themes' system, you will easily become as efficient (or more efficient) than using ClickFunnels.
The only people I recommend using Clickfunnels is people who make six figures per year or more who spend 10 hours/day at their real job and have a burning desire to build an online business.
If you are not in the top 10% of income earners right now and you want to grow into that through an online business, WordPress is without a doubt, the way to go.
And realize... I am potentially giving up on hundreds, even thousands of dollars in making this recommendation.
The additional benefits of WordPress are noteworthy, too.
The first additional benefit is the SEO potential on WordPress.
My main WordPress site that we have added a ton of blog content to receives over 725,000 visits per month, every month, from organic traffic.
Clickfunnels will never be as efficient in the eyes of the search engines for SEO purposes.
The second benefit is the fact that you will be learning a skill...
Once you have basic WordPress skills, you can begin sellin WordPress site creation services to friends, family members, local business owners, etc.
For me, this was one of the first real, true, honest online businesses I succeeded with...
And I wasn't great at it...
I outsourced all the work to people in other countries.
The third benefit is that WordPress open source and is the most popular platform online with nearly 30% of websites running on it.
This means you have an army of smart nerds updating the core of WordPress and building cool functionalities on top of it...
So it is infinitely customizable.
this also means you can hire people in the Philippines, India or Eastern Europe for a fraction of what developers make in the USA (usually between $5 and $15 per hour) do all of the 'WordPress work' for you.
Did this give you enough info to make an educated decision for yourself?
Which platform are you going to build your marketing funnel on?
Leave me a comment below and let me know!