"Any darn fool can make something complex; it takes a genius to make something simple." ― Pete Seeger
So you want to make money online?
You want to fire your boss and create your own financial freedom?
We really need to focus on the simplicity of things then - especially if you're just starting out.
Keep It Simple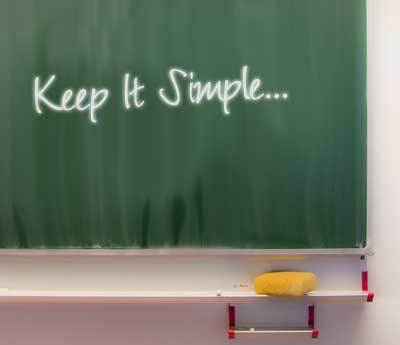 In this post, I want to give you my 'secret' sauce... While I have this simple system now, it wasn't always this 'easy' or even simple for me getting started.
To tell you the truth I had $50,000 in student debt but learning this system allowed me to clear that debt and go on to build a million dollar business online.
No one taught me this system, so I went through 10+ years of trial and error, tons of training, and a huge plethora or tools to figure it out.
But the effort paid off for me.
A Quick Story
Although I've been advertising and making money online since the early 2000's, I made my first serious money in 2003 and finally went full time from home as a self employed internet marketer in 2009.
Since then, I've not only continued to build my own businesses, I have also worked with dozens of small businesses and entrepreneurs. I love helping passionate entrepreneurs to refine their digital presence with the goal of generating more leads and ultimately more income.
On top of my 'real world' experience, I have continued to go through many training courses by today's top internet marketing trainers, like Frank Kern, Eben Pagan, Andre Chaperon, Chris Farrell and for the last several months, I have been getting coached by Mike Dillard, who has created two separate businesses that have brought in over $25,000,000 each.
Education Is Still Key
Why does this matter? Well, this system is tried, tested, proven, refined and still used by the best of the best in the internet marketing world to create cash flow on the web...
You are now being introduced to the streamlined and simple process which offers a huge short-cut for you.
The Process
Let's look at how to make money online step by step. Actually, there are only 3 big things to focus on.
Watch this video below for a quick and simple explanation of how to make money online...
If you'd prefer to listen to this content from the video above, play it or download it from the podcast episode below.
Step 1 - Find an audience to speak to
When you have identified a very targeted group of people who have a similar problem that they are actively seeking to resolve, you are on the right track.
Many say you need to pick a niche first, or pick a product to promote first, but I can tell you from experience (and a crazy amount of studying) that you need to find a targeted audience of people who are searching for a solution to their problem.
Now I need to stress the 'very targeted' part of this point. Simply targeting people who want to 'eat better' is not enough. You need to get more specific.
Really Dive Deep
The next level of specificity there could be 'Women who want to eat healthy' and then get even more specific to reach a 'very targeted' audience, like "Women who want to eat healthy for summer" or "Women who want to eat healthy before pregnancy".
Also think about the, "how" as well. The "how' could be people who want to shape up with running. Or even something off the wall as how early or late someone goes to bed.
Always seek to be creative in your business.
Niche Down
By getting SUPER FOCUSED within a very specific audience, you can create all of your ad copy materials, messages and content based on the needs, wants, desires and fears of this tiny audience. When they read your messages, they will connect with it more quickly because they feel like you are speaking directly to them.
And I highly recommend starting a blog.
About The Blog
You do not need to be a master wordsmith here.
Learning to own and operate a blog is vital in your overall business. You won't need to do a lot of content each week. Maybe only one blog post every few weeks - just so you learn the process.
But the term "blog" is really just what you'll use as part of your sales funnel in your business. This will be VITAL in the portion when you start to build a list.
Let's keep pushing and you'll see how all of this fits in.
Step 2 - Create A List To Grow
Once you've got your blog set up it's time to start working on your list.
All you need for this step is a free give-away report that helps answer that audience's most pressing questions, a lead capturing system like this or this and an email autoresponder will manage collecting leads and actually delivering the report.
Once connected together and combined with the messaging that 'speaks to your audience' these components work together to create a powerful lead capture system that is ready for testing on Google or Facebook, etc. and will build a list of email addresses of individuals who want more information from you, and who you're legally able to market to.
Stay The Course
You should be in this for the long haul. Think about all the people you can potentially help!
Remember, this IS your...
Long Term Strategy
This is how most of the big boys in digital marketing got their start. They built a list and then the money followed. not before. Having someone's email address gives you a ton of opportunity. Much more than owning a blog with a ton of content...
You really start to build your online business when you learn how to collect a lot of email addresses.
This Is The Turning Point
People are protective of their contact information, so if you can earn their trust enough to allow yourself into their world, it's only a matter of time before you'll learn to make sales.
Looking At The Math
When you have a massive list you are creating a long term asset you can use to generate income on demand. Imagine having a list of 50,000 subscribers. Then imagine sending out a sales message for a $50 product.
What if only 1% of your list buys?
Well that's 500 people who just gave you $50 each.
In other words...
That's $25,000 from one email
That's the power we are talking about here...
Just don't abuse your list.
It will take months and even years to build up a large list that respects you. Remember, this is a relationship you are building here. You wan't to treat your list just like you would treat your good friends.
Don't be overbearing
Don't ask for too many favors
Don't take without giving first
Use your manners
All of this should seem self evident. However, you'd be surprised at how often marketers are willing to kill a good relationship just for more profits.
Step 3 - Nurture A Relationship With Your List To Earn Trust
Now that you have lead flow, you need to start the trust process. Remember trust is something you earn. So you'll have to work at it.
The email system is how you'll craft a series of follow up emails that are sent out to the subscribers on a pre-determined time-line.
What It Looks Like...
So for example, if they subscribe for a free report, that report is delivered instantly to their inbox, and then every 2 days your system can send out another 'tip' or 'trick' to further help them with them with how to solve their problem.
Giving value to the individuals on your list up front not only helps them like you and get comfortable receiving your messages, but you also get elevated into the position of a trusted adviser.
Become The Guide
In essence over time, you begin to earn a lot of their trust. This is how you can eventually make sales.
Once you're liked and trusted, when you recommend a specific eBook (that you are an affiliate for and get 50% commissions on), your subscribers are much more likely to take action and purchase the book.
The more you give upfront and the higher quality the information that you give away for free is, the more likely people will be to take your recommendation, when you promote paid products.
Conclusion
That's basically how you do it. It's a deceivingly simple way for how to make money on the internet that requires little more than a 3 page site, a list, and some relevant traffic.
You know, earning money online is a skill... Just like learning a new sport.
For a deeper dive into the world of making money as an affiliate, click here and read The Ultimate Guide To Affiliate Marketing next!
Just because it is 'simple' that doesn't mean it is 'easy'.
It Always Takes Work
For example, the game of Golf is simple. Take goofy club and tiny, dimpled ball... Then proceed to whack the ball repeatedly until you get it in the cup and move on to the next hole where you repeat the process.
Simple right? But is it easy? Not so much. If you have ever tried playing golf you know that it can be incredibly challenging just to hit the ball straight down the fairway.
And remember that all pro golfer's have coaches and spend countless hours working on their game!  You have to have the same approach.
But whether we are talking about getting good at golf or getting good at making money in the digital space, both are skills that can be learned.
Practice & Test
It takes practice, consistency, persistence mixed with time and effort. With practice and by keeping it simple you can make it look easy, while creating effective, and in the case of making money online, profitable results.
If you want access to a professional level course that will take you from where you are (whether you have never made money online or you are already making $10k/mo) and help you get to the next level, be sure to check out my Authority Hacker Review.
You may also want to get this free book that explains everything in great detail.
To your success!