If you've ever wondered what someone uses as their shopping cart or their product delivery plug-in… You're wondering with their marketing stack is.
That term of "marketing stack" refers to the email system, the CRM, the shopping cart, the product delivery system, your content management system, even your theme.
I seem to confuse people on a very regular basis when they ask about my marketing stack....
Because on three separate sites that are all profitable, I have three separate marketing stacks!
Why?
Mainly because I'm always testing different options to see if anyone gives me a competitive advantage.
I don't trust the sales copy on software products... I'm more interested in installing, configuring and running traffic through to see what actually happens!
In this post you will learn the three different marketing stacks that I'm using and will conclude with my recommended marketing stack for different situations... Because I don't believe there is one all in one option that is best for everyone.
#1 - My main site that sells individual downloadable products: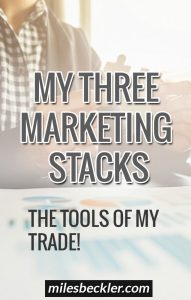 On this first site, I am planning on getting rid of Digital Access Pass the developers who updated don't offer very good support it's very clunky. I will be changing over to the Active Member 360 plugin by the active campaign team that is running successfully on the next site.
#2 - My Membership site...
This is an awesome stackThat was recommended by an integration specialist at http://www.IntegratePro.com as a simple yet bulletproof option when I left click funnels...
My one challenge is that thrive cart is still in beta and it's very limited in customization and design.
For a full ThriveCart review, click here.
Eventually, I think it will become an actual competitor for Sam cart, but right now the freedom to do split testing and customizations to the design in SamCart is 10 X better.
For the full SamCart review, click here.
#3 - Stand alone high ticket product site: One digital product for $497
This works very well and I love that they check out on my site with MemberMouse... On the other sites, like SamCart or ThriveCart The user physically leaves my website to a different domain and I do believe that can be challenging for conversions.
Also with MemberMouse, you can do dollar trials and one click upsells's and even split test pricing, Which is important for optimizing your funnel.
I think you might be able to get more 'clickfunnels-like' functionality out of SamS cart, but you will also pay 5x as much per month.
What I really like about SamCart is the variety of checkout page customizations (without having to get into the code), the ability to add order form bumps and the ability to split test different upsell funnels...
What marketing stack do you recommend?
Right from the start you will notice some very strong consistencies in all three...
I recommend building your funnel on WordPress with Thrive Themes and personally use that exact setup on every site I run.
In fact, I even created a free, 1 hour 30 minute tutorial that shows you exactly how to build a funnel on WordPress with Thrive Themes
Seeing that I run three different carts on three different sites, this is where the big divergence happens.
For most people, I think that Member Mouse is the best option.  It is a simple and effective option for selling your own digital products or membership from your website.
With a low  $20 per month fee, it is the least expensive option that offers you the ability to run one dollar trials and one click upsells's... Both are extremely important for running a six-figure membership funnel and for building an optimized funnel you can market with Facebook ads.
SamCart is definitely the most robust offering you the ability to add order form bumps, up to 5 one click upsells, downsells, split test upsell funnels, fully customize sales pages and run an affiliate program.
The challenge with Sam cart is that for all that functionality you need to pay $97 per month. This is not a beginner option, but for an advanced marketer with a series of upsells and order bumps... And the desire to test them in different funnel shapes, Sam cart is a win.
Thrive cart is the new kid on the block... Many of the functionalities that Sam cart offer are available in thrive cart.  The problem with thrive cart is how new it is.
The development team is consistently working on big new integration projects such as the affiliate program module, but they're ignoring the little details like the ability to customize your checkout page. For my brand the inability to make my checkout page look like my sales page is very frustrating.
For ease-of-use, I do think thrive cart is winning!
Finally we have email and product delivery...
If you're using active campaign, the active member 360 plug-in that they've developed forward press is great. Unfortunately, bboth active campaign and the active member 360 plug-in are confusing!
they are coded by developers seemingly for developers. They work, but the process of setting up a follow up sequence in active campaign feels five times more difficult than accomplishing the same goal with Aweber. This is annoying.
Digital access pass has terrible support, is clunky and is a major security vulnerability. I honestly wish I could've written this post without even including them, but my goal here was to be honest and this is the honest truth. Avoid at all costs.
Member mouse works! They have found a fantastic balance between functionality, ease-of-use, and elegance for your customer experience.
For advanced marketers running multiple product offerings, multiple membership levels, testing multiple different funnel structures all the same time… It is not as good of an option as SamCart.
But I believe that is close to 5% (maybe 1$) of all Internet marketers who fit the criteria that 'need' SamCart.
In building your marketing stack and launching your business online, speed of implementation is key.
The faster you can get your funnel up and running...  And move on to driving traffic, the closer to success you are.
Drowning in the details is the biggest problem for new Internet marketers and Internet entrepreneurs.
This is why I really like the simpler setups for people getting started, like Aweber with MemberMouse.
For businesses bringing in multiple six figures per year selling their own digital products or memberships, There can be advantages to the advanced functionality found in Active Campaign and Sam Cart.
I wish there was one answer for everyone that makes this post super simple, but that's not the reality.
If you have any questions for me, leave me a comment below... Or if you're using another marketing stack that you're in love with, let me know what that is in the comments!