You're already busting your butt putting out content that people will find useful.
So make sure you're capitalizing on your time invested in content marketing by doing keyword research!
Keyword research is crucial if you want your content to get eyeballs on it, which leads to you getting more email subscribers, sales, and money.
You CAN use a free Google keyword planner alternative, but if you have 25 bucks a month to spend on your business, using a paid keyword tool is a great investment.
You can save a TON of time using one of these paid tools as opposed to using a combo of free ones.
But first, let's go over the 80/20 of keyword research so you know the most valuable ways to spend your time when using one of these tools.
The 80/20 Of Keyword Research
Keyword research is a lot like mining for gold.
You spend a bunch of time sifting through dirt to discover real gems.

And just like in gold mining, in keyword research you want to:
Go where there's gold (aka traffic

in our case)

Avoid going where there's too much competition

(aka other high ranking web pages)
Let's break things down a bit before going into our keyword research tool selections so you know EXACTLY how to use these tools for best effect.
Where To Find Traffic
Take a look at this picture from KW Finder:
When you search for the term "google keyword tool", on the left side of the screen you can see this phrase has about 40,000 monthly searches… which is a lot.
And on the right side, you can see how many estimated visits each Google search result gets per month.

So the #1 page that people see when they type in "google keyword tool" is the actual page Google has where you can use their keyword planner.

And this page gets about 9,600 visits a month.
The 7th result for "google keyword tool" is still getting a respectable 1,175 views per month. Meanwhile, the #7 spot for "google adwords keyword tool" is only getting 200 clicks per month,

and the #1 spot for "adwords tool" is only getting 150 clicks per month.

From the surface, these search terms may seem to be very similar. But in Google's eyes, they are each a distinct keyword (for the most part) and that means you can specifically optimize your page for a given keyword.
Remember lesson #1: go where the gold is. The more traffic to a keyword, the better. But you also have to balance "finding the gold" with targeting phrase with low competition…
As an actionable takeaway, you want to target keywords that have AT LEAST 300 monthly searches, and as long as competition holds the same, MORE searches is better!
Competition
You can put the very best guide on your niche out on the internet.
But if you don't get eyeballs on that page, you won't make any more money or help other people with your content.
So the #2 lesson of keyword research is to always try and find keywords that your page can rank in the top 10 for.

Almost all the Google search traffic goes to the first page, so spots 11-20 on the second page just aren't gonna cut it from a traffic perspective unless the keyword gets crazy traffic in the first place.
And depending on how strong your website is in Google's eyes, you may have to be quite selective on what keywords you go after, especially in the beginning of your site's lifespan.
At this stage in the game, using KW Finder's rough guide to keyword competition levels is your best bet, which is why it's our recommended tool.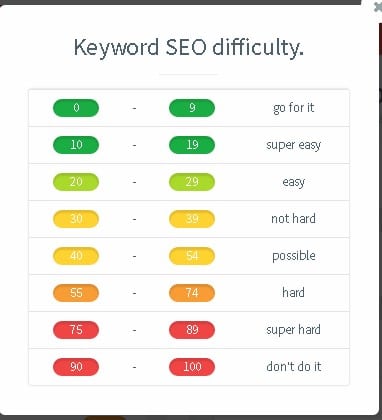 The Best Google Keyword Tool Alternative For Most People: KW Finder
KW Finder is the best keyword research tool for most people for one very good reason: it's easy to do the 80/20 of keyword research using this tool.
Just look at how simple and intuitive the dashboard is after you search for a phrase: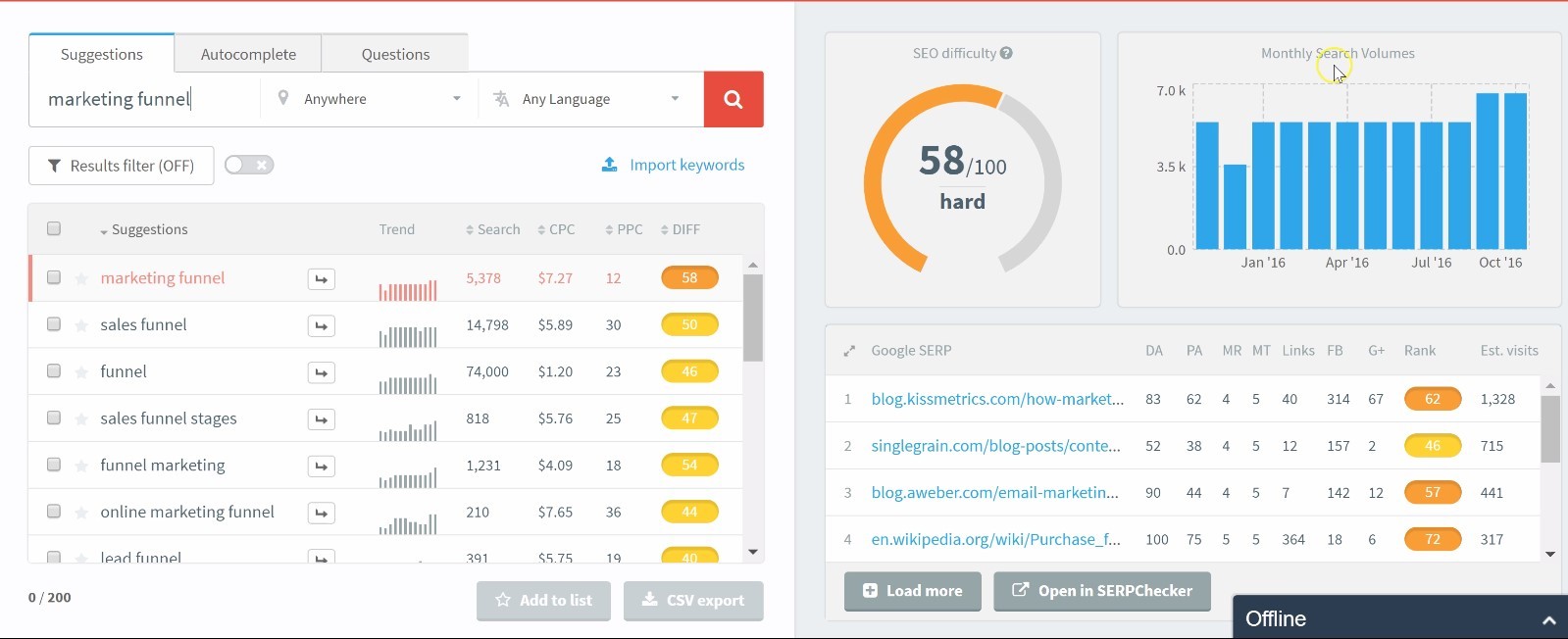 You instantly see how much traffic your phrase is getting, and you see how much competition there is to rank on the front page of google for that phrase.
Those are the two most important parts of keyword research, and by making these easy to see KW Finder rises to the top.
Other Strengths of KW Finder
KW Finder also shines in it's ability to generate other keywords that you can dig through after feeding it a "seed" keyword: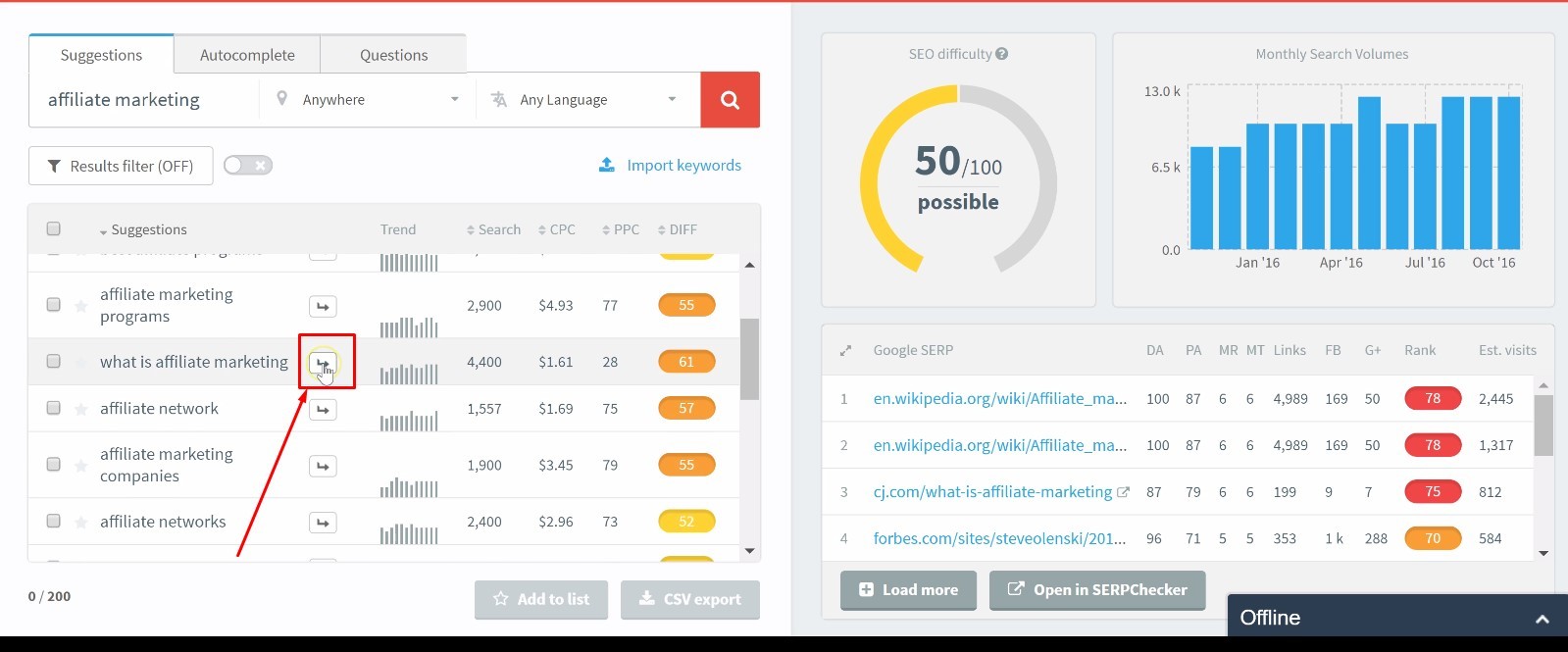 This lets you do all your keyword research in one place, and lets you "think laterally" and find keywords to target that you might not have even thought about.

Those keywords are often the gold that other marketers miss… but you won't if you use this tool.
Finally, at a price point of 12-25 dollars depending on your usage, KW FInder is an insane value for the price.
Once you know the keyword phrase, how do you optimize your blog post / page for that phrase?
You download the Yoast SEO plugin and let it do the work for you.
The Yoast tool isn't perfect, but it gets the job done of telling you some of the important factors Google considers.

Here's a short list of SEO factors to look out for:
Make sure the post title and "slug" contain your exact keyword phrase

Make sure the meta description for the post contains your exact keyword phrase

Make sure that there are pictures with related keywords in their "alt" tags
Other Good Google Keyword Planner Alternatives
Long Tail Pro: A Good Tool That Is Overpriced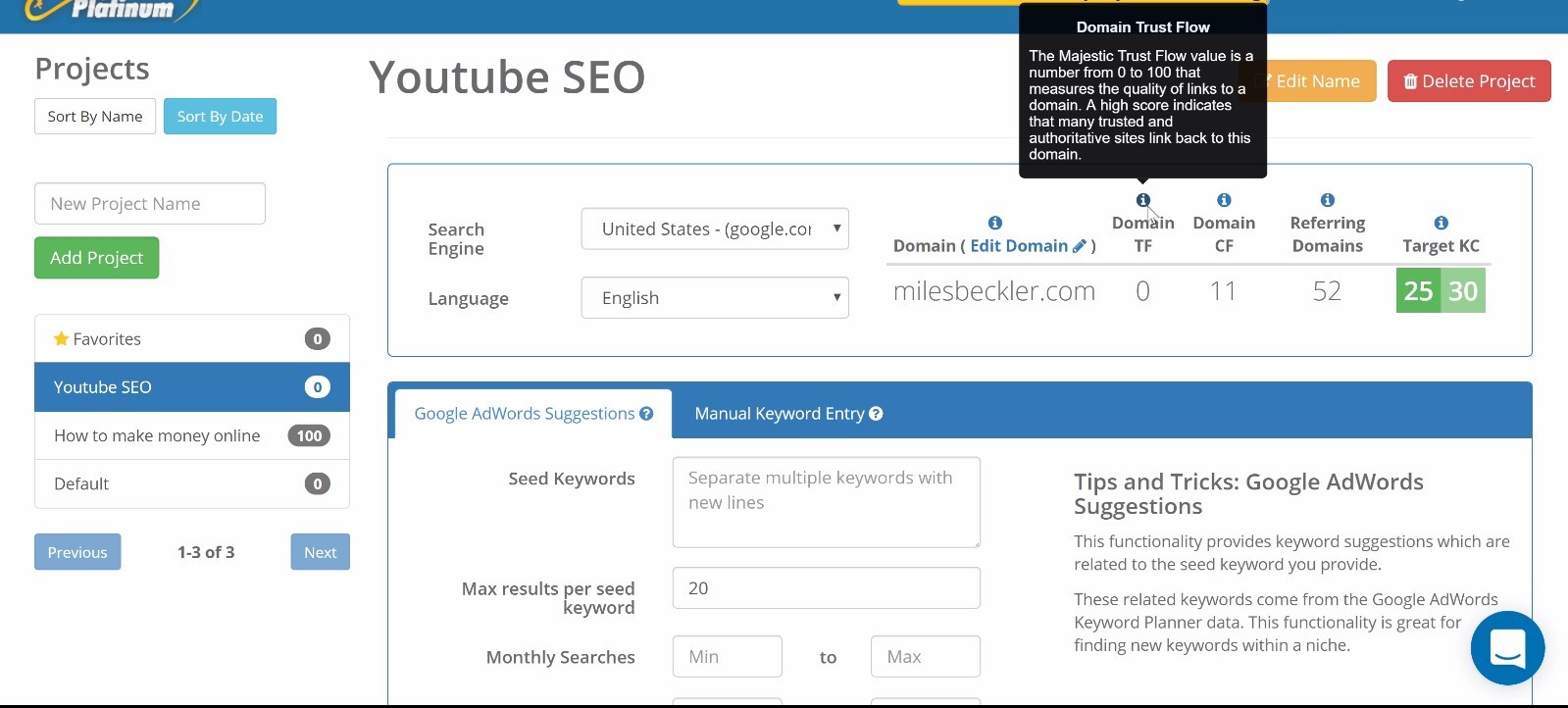 The Good:
Good for finding true long tail keywords

Pulls both related and relevant keywords

Gives you a super simple number that tells you what competition number you should be aiming for in your phrases:


Has a bunch of filters you can use to really hone in on what you want:

The Bad:
Long Tail Pro was recently purchased by an investment group - which is bad.
Why? Because now, Long Tain Pro's #1 priority  is now making money for investors rather than being the best keyword research tool in the world.
Also, Long Tail Pro is not quite as intuitive as KW Finder.

The Good:
The main dashboard is super simple

Better than Ahrefs and SEO cockpit because it's faster and more intuitive with data layout
The Bad:
You can't automatically just dig further into keyword results - you have to copy and paste the new phrase into the original search box which is a bit of a hassle.
This holds the Moz Keyword tool back from being really easy to use in the competition area, and from a higher spot.

SEM Rush: Not Ideal For Newbies, But Useful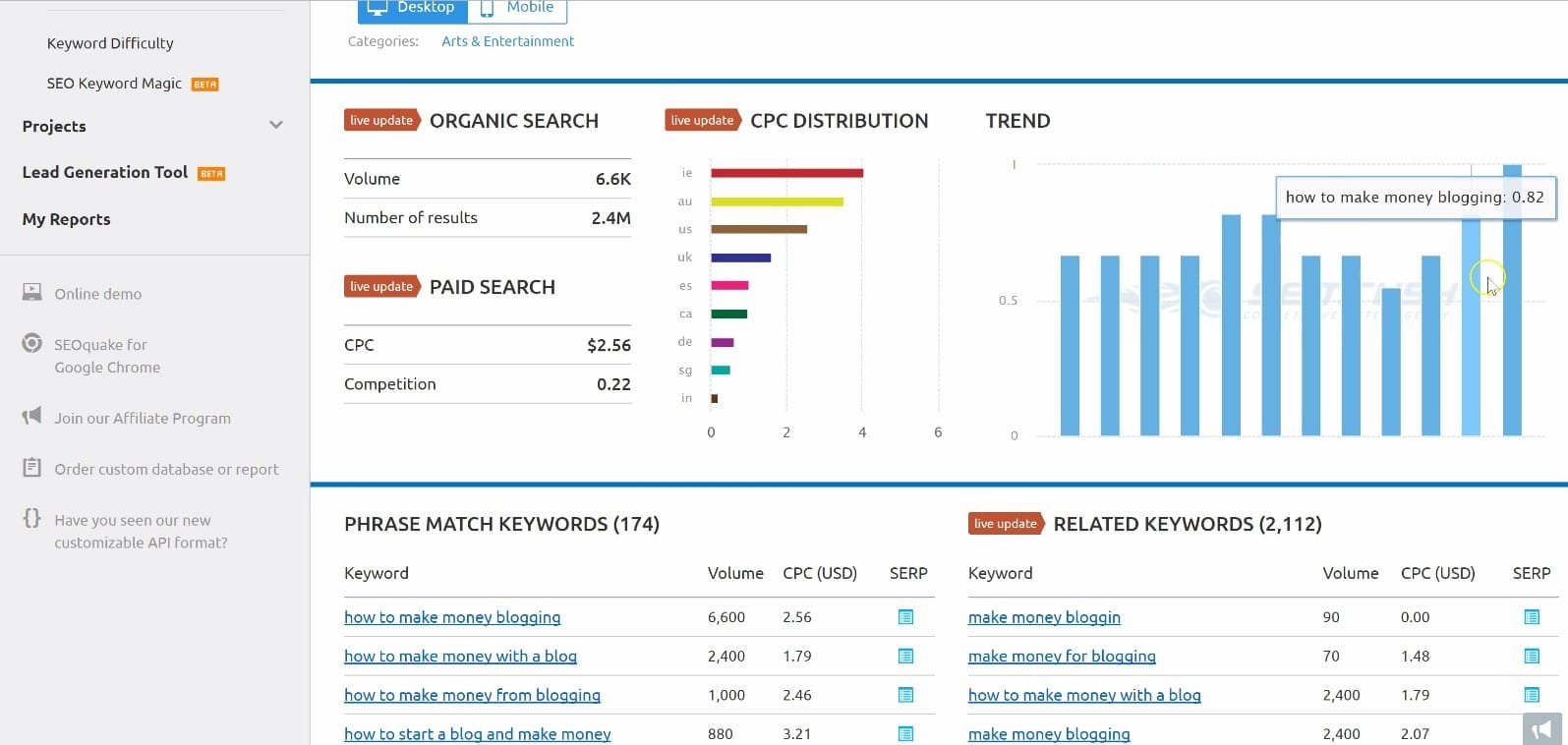 If you wanna really double down on SEO research, SEM Rush might be the tool for you. If you just want to 80/20 keyword research, there are better choices.
The Good:
Gives you some cool SEO information on your website

Shows valuable data
The Bad:
Shows too much data - some of which isn't useful
Not Recommended Google Keyword Planner Alternatives
Ahrefs: Too Much Info For Most People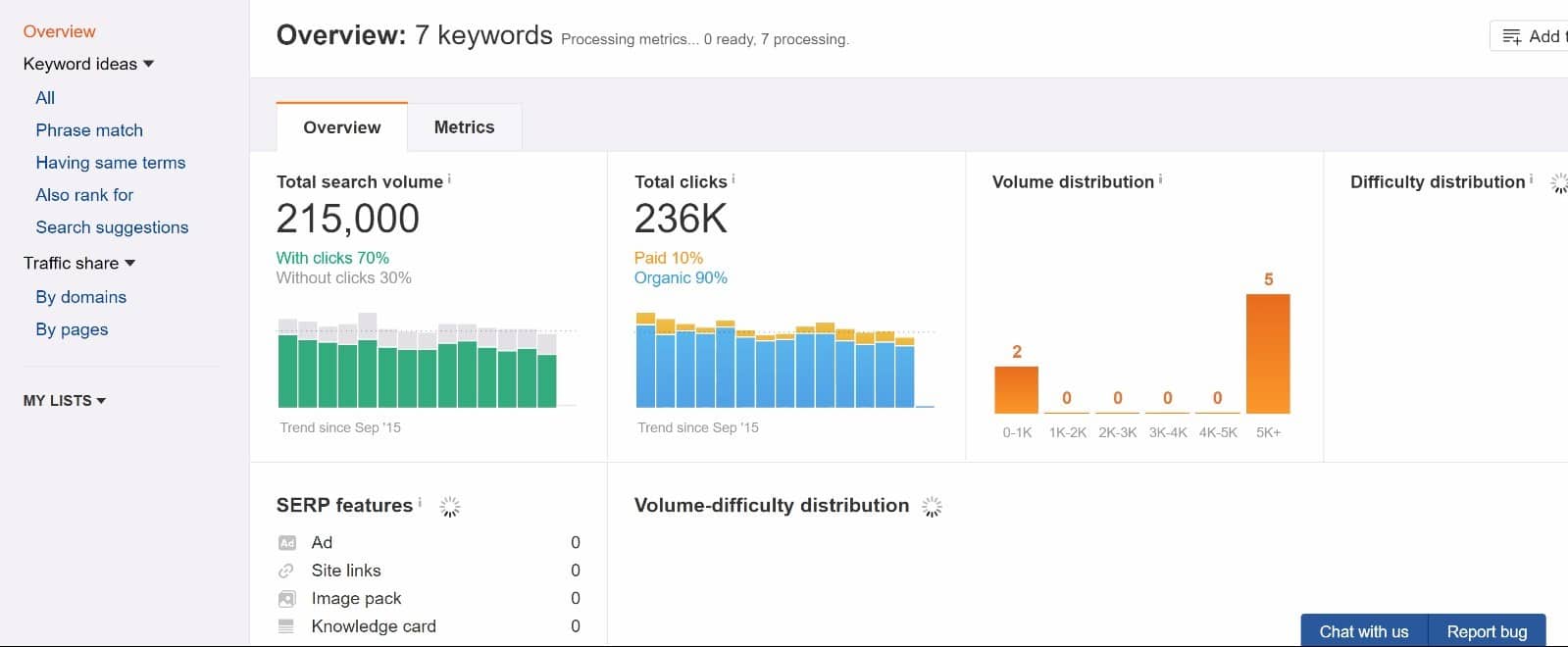 The Good:
If you're an SEO ninja, you might love Ahrefs. You can get a TON of information with this tool if you know how to use it.
It has the search volume and competition numbers you want:

 

The Bad:
You can't enter a seed keyword and then let Ahrefs find variations or suggestions long tail phrases. You'd have to use a tool like Keyword shitter to make a list that you could then plug in to Ahrefs.

It's slow!

For most people, Ahrefs simply overloads you with information.
Keyword Tool.io: Held Back By A Lack of Competition Research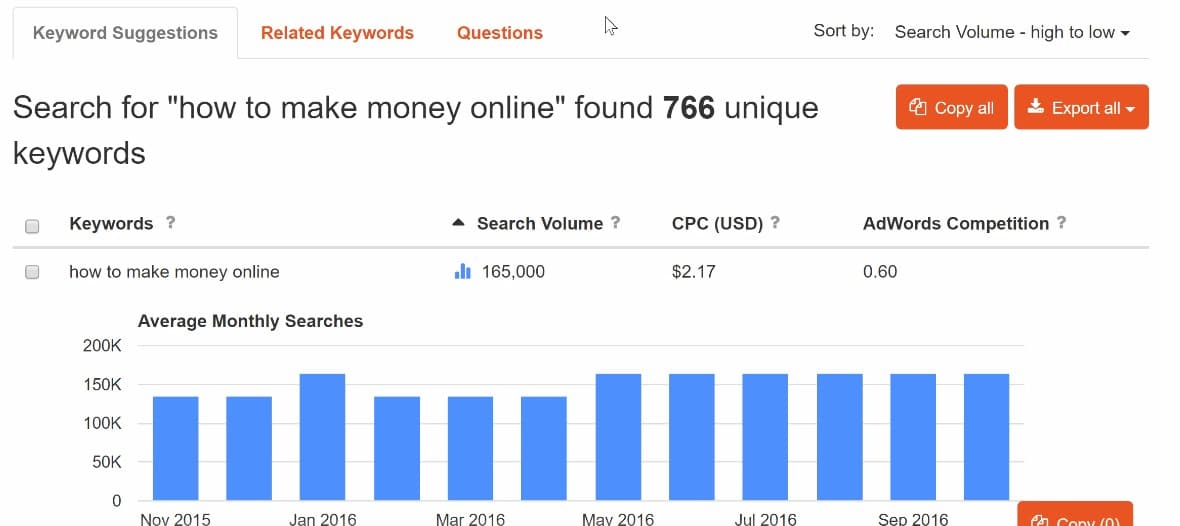 The Good:
Shows competition data
Shows you information about what keywords a given website is ranking for:

The Bad:
No competition data. This is a dealbreaker.
SEO Cockpit: Built On A Foundation of False Data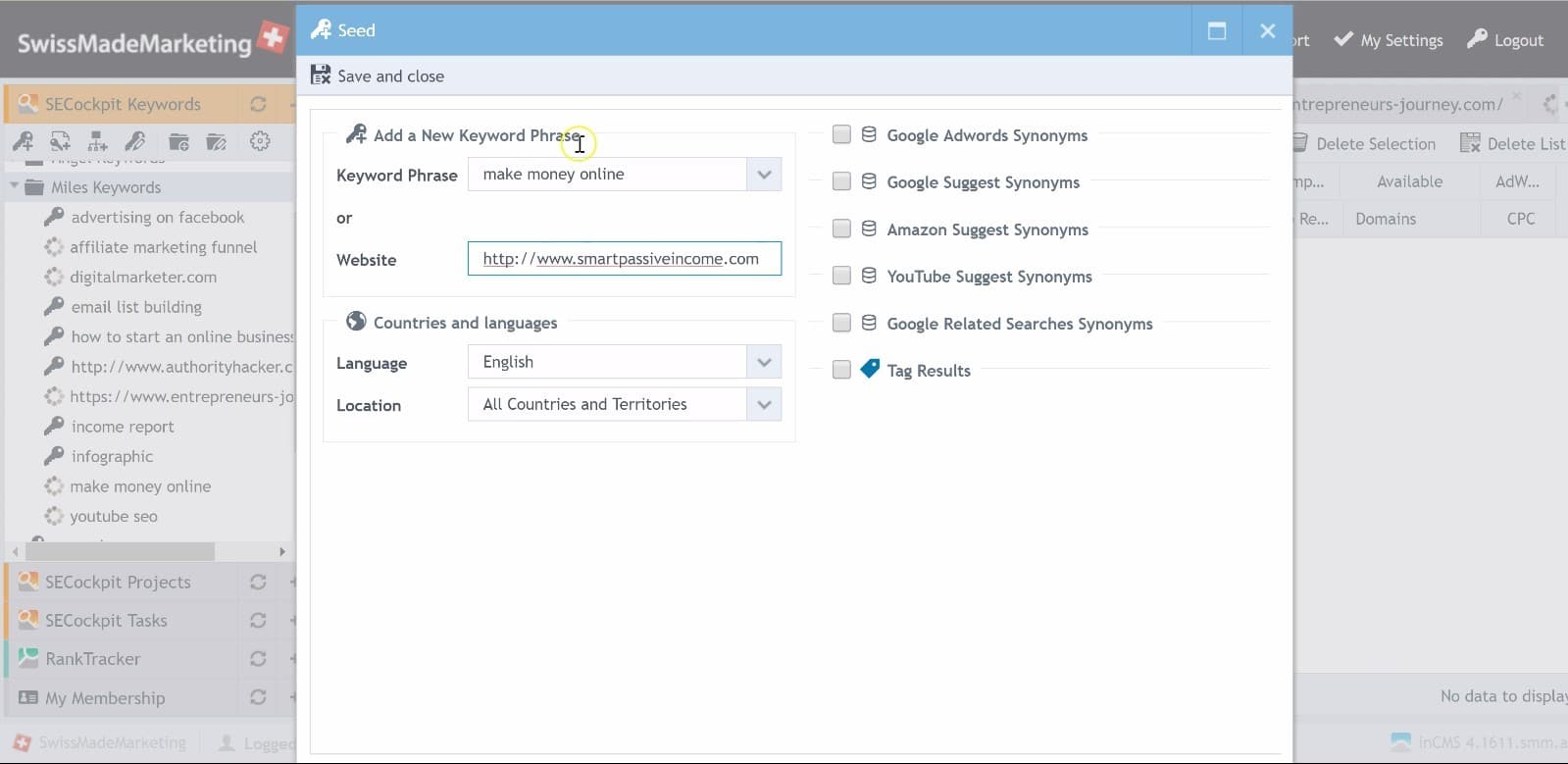 The Good:
You can put in your website URL to get some valuable data about your SEO.
The Bad:
UI is clunky

Is SO SLOW!!! He would have to make a sandwich or something. There's just no reason a paid tool should be this slow.

It pulls false data, which is pretty unacceptable for a tool that costs money. For example, look at how the tool thinks that these high ranking websites have a Moz score of 0:
The Final Verdict
If you want to make keyword research a part of your content marketing routine, you need to make it easy to do.
And KW Finder makes keyword research easy while giving you the information you need to make data driven decisions. If you want a bit more complexity, you can try Long Tail Pro.
Whatever tool you ultimately use, just make sure that you put in the effort of looking for the gold in keyword research.